Construction Industry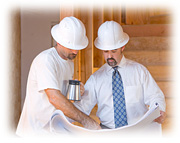 With all the new challenges facing the construction industry, you need an accountant that understands your business and can help you maintain your records in order to meet the specific needs of the construction industry. I have worked with residential & commercial companies of all sizes ranging from industrial trades to general contractors & developers.
I have been working with construction clients since 1990. Not only am I very familiar with the tax law and accounting principals relating to the construction industry, also I have had considerable hands on experience in construction.
FREE Initial Consultation
To learn more about what Olin Business Solutions can do for you, please feel free to contact me. Initial consultations are offered free of charge.