Olin Business Solutions
John M. Olin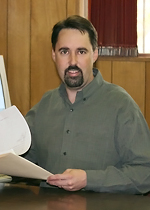 Welcome and thank you for visiting my Website. Olin Business Solutions is a Public Accounting Firm licensed in the state of Arizona that provides integrated solutions involving business information systems (i.e. Computer systems and software), accounting services, and tax services to Arizona businesses. I have been providing accounting services to business and individuals in Arizona for over 20 years. In addition to my accounting experience and education, I also have a very extensive computer background including custom programming. You can click on the 'Services' tab for more information on the services I offer. Services are designed to meet the following standards:
Convenient Quality Service. A native of Yuma, I have been providing accounting services to Arizona businesses since 1989. Services are designed for your convenience; I come to you (or if you prefer, you can come to me). Through membership in professional organizations, continuing education, experience, and an investment in the latest research materials, I am ready to provide you with the highest level of service.
Personal and Prompt Service. I am dedicated to giving you the most value for your money by taking the time to understand your needs and using my education and experience to match those needs with the most cost effective solution. I am one of the most accessible CPAs around; clients have direct access to me on my cell which is on nearly 24/7. I understand that your time is important and place an emphasis on promptly meeting the needs of your business.
FREE Consultation. Please feel free to contact me to setup your FREE consultation to see what I can do for you.